Employee handbooks, employee manuals, and other products from HRIT.com.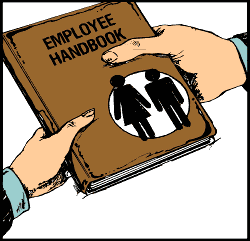 Having your own employees to manage is a big responsibility. The task of managing them can be quite a challenge especially if you do not have a set of guidelines for them and the difficulty increases with the number of employees that you have. To make things as smooth as possible, what you need is an employee handbook or an employee manual.
HRIT, also known as Human Resources & Information Technology, is a provider of employee training videos, downloadable employee handbook templates, labor law posters, and custom software and database jobs. They are the ultimate help for human resource departments and human resource agencies and you can find more about them at HRIT.com. Below are some of the features and benefits of HRIT's employee handbooks, manuals, and other products.
Quick. If you need an employee handbook or manual real quick, then you should definitely get one from HRIT.com. You will automatically receive the product from them electronically so that your order can be quickly downloaded and you can be ready with it in as little as an hour.
Editable. Of course, you do not want a generic employee handbook or manual. The great thing about HRIT.com's employee handbooks and manuals is that they are fully editable so that you can change, remove, or add anything you want. The nitty-gritty has been done for you; you only need to polish it based on your company's own set of guidelines. You can also put in your company name, logo, and other miscellaneous items that you want to appear on your employee handbook.
Well-made. Sure, there are other employee handbook templates you can easily download online. Some can even be downloaded for free! However, most of them are as good as making your own from scratch because of the many edits that you will have to do. You want a template that is well worded and constructed. With HRIT.com's templates, you can be sure of the quality of content that you will get because the employee handbooks have been developed by seasoned HR and employee managers. Aside from this, the template has also been edited and approved by lawyers specializing in employment law. You can also be sure that it is timely and appropriate because it is reviewed for legal compliance at least every six months.
Local templates. To ensure that your employee handbook template is best suited for your business, HRIT.com has made available some specific local templates such as their California employee handbook template and their Ohio employee handbook template. This guarantees that the employee handbook template you will get is drafted with specific state labor laws in consideration.
Free samples. If you are still unsure whether HRIT.com's products are right for you and your company, you can easily download the free employee handbook samples that can be found on their website.